By Julie Wrinn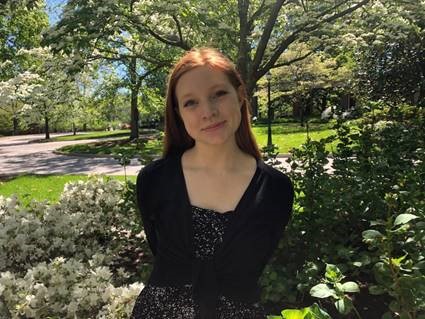 While online education has existed for some time, not until Covid-19 did anyone realize that online internships made sense. The whole point of an internship is to exit the classroom and experience real-world environments, working side-by-side with people in your field of interest. But with so many of those real-world environments also operating remotely during Covid, suddenly the idea of a remote internship didn't seem so peculiar.
Madeline Imler (B.A. in History and Anthropology, May 2022) can now attest to the value of such an internship. A graduate of Assumption High School in Louisville, Madeline served as an intern in fall 2020 for the UK Cooperative for the Humanities and Social Sciences (CHSS). Inaugurated in 2020 and led by former History Chair Karen Petrone, CHSS fosters interdisciplinary scholarly connections among faculty and graduate students at UK, as well as facilitating graduate student engagement with local, state, national, and international communities outside of UK. Its purpose is to demonstrate the value and contributions of the Humanities and Social Sciences in sustaining communities and solving critical social problems, especially in this time of crisis. In a recent interview, Madeline described her experiences as a remote intern with CHSS:
What were your responsibilities at CHSS?
One of my tasks was to help publicize events hosted by the CHSS during the fall semester, my two favorites being "Leadership in a Time of Crisis" and "Mobilizing the Arts in a Crisis: The WPA'S Lessons for Today."
"Leadership in a Time of Crisis" was the CHSS's first event and included State Representative Charles Booker, so there was so much energy and excitement surrounding it. My tasks were to design a graphic for social media and publicize the event, trying to attract as many people as possible. It went really well and was a great start to the fall semester. It felt uniquely special because it took place during a time of isolation and frustration; as a community we were learning to work together in the midst of Covid. There was a great sense of unity in that event, which was such a beautiful thing at that point in time.
"Mobilizing the Arts in a Crisis: WPA's Lessons for Today" was another favorite of mine. While I worked on publicizing the event, I was also responsible for finding pictures that could be used from the National Archives! The event was extremely interesting to me, as it reflected on the pandemic of 1918, and how the arts were used to bring people together and fight the pandemic, as well as the problems that came with it. I loved seeing avenues of culture that are typically dismissed during crisis, such as the arts, highlighted and shown to be extremely influential and vital.
As mentioned above, I did most of my work on social media, publicizing events and working on graphics to be used. I also synthesized data taken from surveys sent out to community members/partners of the CHSS. This helped us get a better idea of who our community was and what they were looking for from the CHSS, whether it be writing groups, events, or anything in between. I spent some time doing research on social media and community building, as well. This was interesting, not only as I had little experience with community building on social media, but because of the time that the internship took place. In our first full semester socially distanced, it was easy to feel isolated and that UK was not the community it had once been. Researching ways to encourage community building and then putting them into practice helped combat those feelings of isolation that came with distanced learning.
Did you see intersections between your coursework and any of these projects?
I would say yes and no. Yes, in that there was always a historical aspect of these events, whether intentional or unintentional (such is the nature of history). The act of turning to the past to combat problems in the present also aligned with many of my courses. With so much going on between the pandemic, the election, and social justice/injustice, there was a general frustration within our UK community. When this happens, even in classes I took about the World Wars or turn-of-the-century Paris, there were similarities highlighted between what was going on then and what was occurring that semester. With the CHSS theme being "Humanities and Social Sciences in a Time of Crisis," many events looked to how the humanities have been used to respond to times similar to the ones we are in. 
Where my experience did not line up with what I was learning in class was where I saw the most benefit. While at first I was disheartened that such an amazing internship would be conducted remotely, I grew to see it as a new opportunity. One thing this pandemic taught us is just how much can be done online. This has been such a reminder of how important social media and technical skills are, and that these will only grow to be more important, particularly in history. As part of history is spreading knowledge and outreach, as well as promoting oneself and one's research, social media can be such a powerful tool for historians. Growing more familiar with and skilled at social media, publicizing, and community building is something I don't think I would have learned (especially not to the hands-on extent that I did through this internship) in a classroom.
Did you work closely with any particular faculty?
I worked closely with Dr. Karen Petrone and Dr. Melanie Goan during this internship. As director of the CHSS, Dr. Petrone was a great mentor. She is one of the busiest people I have ever met, but she will always take the time to check in and meet with me, as well as making me feel included within the CHSS. She provided help and guidance throughout the internship and made it a valuable and memorable experience. When it came to processing my internship, particularly in the greater picture of my history career, I was able to work with Dr. Goan. She provided advice and insight into professional work and helped me stay organized with my goals for the internship, as well as my career goals. I feel very fortunate to have been able to work with Dr. Goan and Dr. Petrone, both of whom are extremely accomplished historians, and I cannot imagine what this experience would have been like without them. An honorable mention would also be the CHSS steering committee, as I was able to attend committee meetings and work with members of the committee on certain projects. It was amazing to be a part of something doing so much important work within the UK community, and working with a committee of dedicated faculty.
Can you say anything about your plans for after graduation in 2022?
After I graduate from UK, I am planning on going to graduate school focusing on history, specifically modern history and historical memory. I also find the intersection between cultural anthropology, historical archaeology, and historical memory fascinating, so I hope to do work in that area of history as well.